When the Pandemic hit the world in February and March 2020, nearly all events were cancelled or suspended in Japan. The safety concerns of bringing so many people together, even outdoors was the prime factor in the decision to cancel summer firework festivals. The result was an over $5B hit to the industry on the whole. Fireworks manufacturers had orders cancelled, food vendors had no place to sell festival food and area businesses saw a massive loss in revenue. Even before this, I was thinking of creating a Japanese Fireworks festival with the Japan Hanabi Association and Ideya Ltd which helps support the industry across Japan following an episode on the World's Largest Fireworks Shell I produced in 2019.

I launched a Kickstarter campaign in August and by it's deadline of September 5th, we'd raised ¥6,276,216 or $59,600 which went directly to the Fireworks Industry to put on the show!
https://www.kickstarter.com/projects/oijfireworks/only-in-japan-fireworks-festival-october-2020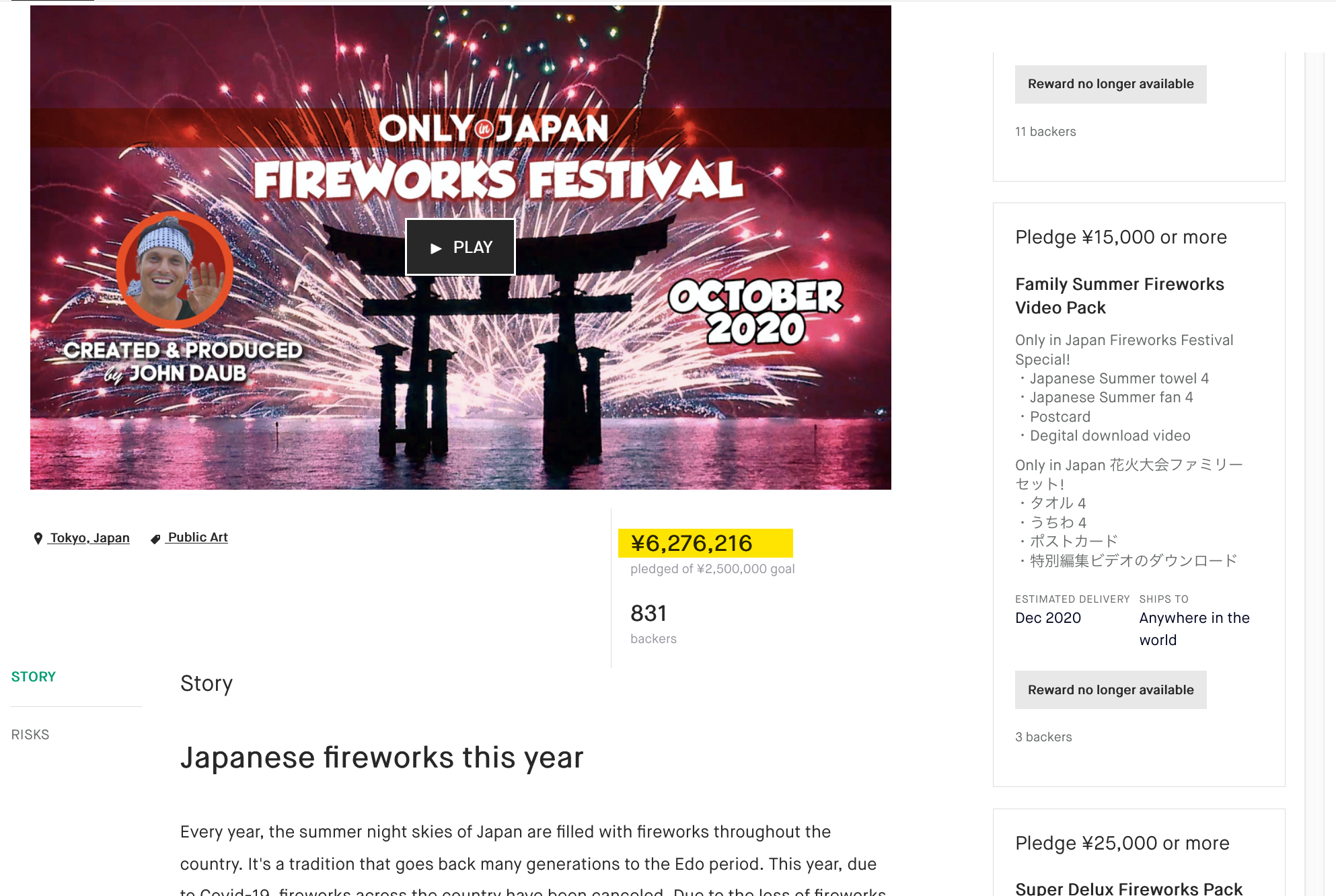 The ONLY in JAPAN Fireworks Festival will be part of the Omagari Festival in Akita on October 10th between 6-8pm.
I am producing a documentary about Firework Manufacturing but also will be streaming the event live for free to everyone around the world here: http://youtube.com/onlyinjapango
The original goal was ¥2.5M or about $25,000 so we took the additional money to set up a second festival to help fund another area, Katakai. There, we can launch watermelon sized SHAKU-DAMA 尺玉 no.10 Firework shells, 9 of which were sponsored by viewers directly of the ONLY in JAPAN series!

HISTORY

In 1733, fireworks were displayed on the Sumida River in Tokyo as a memorial service for the victims of starvation due to crop failures and disease. Although fireworks have been in Japan since the 17th century, it was these incidents that sparked an interest in fireworks here. Because the Tokugawa Shogunate time was peaceful, gunpowder was used for other, recreational purposes – fireworks! 2020 has been so hard on so many of us, and we want to honor the people who lost their lives as a result of Covid-19 in the same spirit as they did in 1733.

When I learned of the history, I knew I had to make this project happen.
I am thrilled we had 831 backers from all over the world take an interest in Japanese Fireworks and hope that the event will be a huge success!
SCHEDULE

October 10, 2020
Omagari, Akita
6-8pm JST

October 21
Katakai, Niigata
7:30pm JST
-John Daub
ONLY in JAPAN Producer & Creator